Vocal Explosion is an umbrella organisation founded by Juliet Russell, which offers a wide range of singing experiences.
MASS SING
Imagine the sound of thousands people singing together and making a unified sound within minutes. It works in the same format as a performance, with Juliet Russell on stage leading the whole of the audience to create a huge upbeat vocal sound in the shortest space of time.Within minutes world harmonies are layered up with an undercurrent of strong, evocative rhythms, the event lasts between 30 and 45 minutes and works with between 200 and 5,000 participants…Read More
---
CHOIRS IN SUSSEX
Brighton Vocal Explosion Choir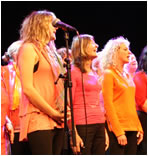 Much of the music that Brighton VE choir performs, draws on global influences layering up beautifully evocative harmonies over strong rhythms which are delivered by powerful singers. Much of the repertoire is composed especially by Juliet Russell. This choir is audition only but we are currently looking for new singers to join us – please email vocalexplosionintro@gmail.com…Read More
---
Hastings Vocal Explosion Choir
MIDWINTER – THE NEW CD FROM HASTINGS VOCAL EXPLOSION IS OUT NOW. CLICK HERE FOR DETAILS!
A big sound open to all adults, this choir sings world influenced music that incorporates many styles from the hot rhythms of Africa to the stunning harmonies of Eastern Europe and beyond. Come and have a FREE taster session, then if you like us, join for the term! Read More
---
Hastings Gospel Soul Choir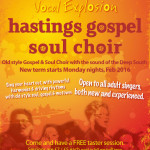 A community choir open to all singers, with or without experience, led by Vocal Explosion's director Juliet Russell.
Come along and sing old style soul and gospel complete with powerful harmonies and driving rhythms.
New singers are welcome to a *FREE* taster session, then if you like us, join for the term! Read More