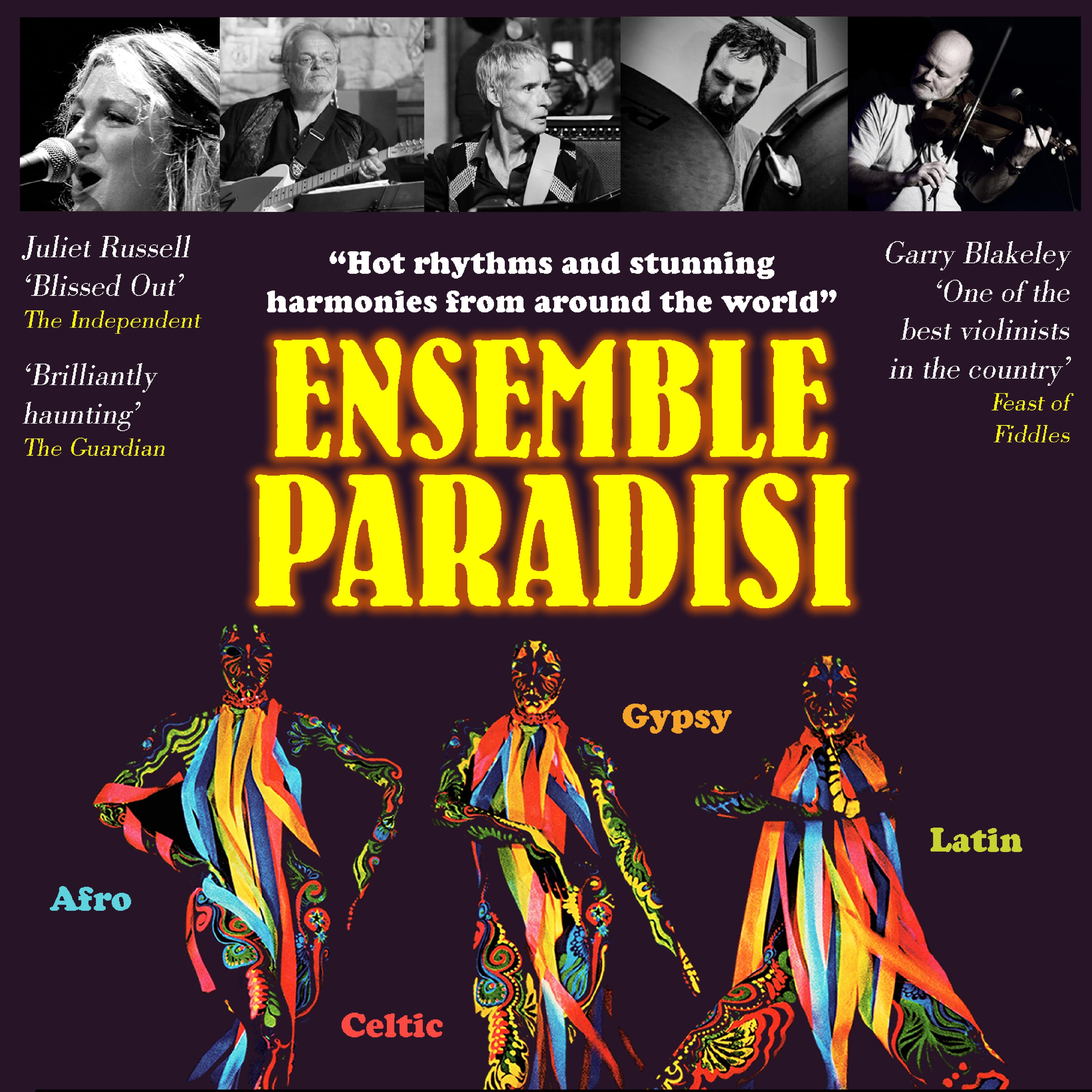 ENSEMBLE PARADISI
An exciting new musical collaboration incorporating many genres from all over the world including Latin, Afro, Celtic and Gypsy tunes and songs. Rehearsals are going very well, I think you should come and check this out if you can.
For those of you who love brilliantly crafted, original, high-octane music, then you'll be very interested in a new and exciting musical collaboration. 'Ensemble Paradisi', is a creation by some of the Southeast's finest musicians and tunesmiths. Specialising in the interpretation of a wide range of musical genres from all around the world including Latin, Afro, Gypsy and Celtic melodies and songs. Hot driving rhythms, taking you on a passionate and evocative journey to exotic parts.

Featuring Hastings' very own:
Garry Blakeley, who is recognised as one of the country's finest fiddle players, having toured with the likes of Steeleye Span, and Christy Moore. He also tours regularly with the amazing 'Feast of Fiddles'.
Juliet Russell, singer and composer, who was described as brilliantly haunting by The Stage and 'blissed out a capella', by the Independent. Juliet is the creator and the driving force behind the celebrated and award winning 'Vocal Explosion' World Music choir, whose sell out shows are some of the most eagerly anticipated in the area.
Add to this the amazing rhythmic power of Julian Humpries, and his assorted drums and hand percussion. Julian has played and taught percussion for the last 20 years. Having trained in India and Africa he has a wide knowledge of world beats and rhythms. He has recently returned from Salvador and Brazil where he studied Afro Brazilian rhythms and performed with 'Cotejo Afro', one of Salvador's oldest musical troupes and with whom he performed at the mighty and world famous 'Carnival' in Rio.
Completing the line-up are Rob McCaig on bass, Alan Hounsell on guitar and Bob Turner on trumpet. Rob began as a brass player before becoming a professional bassist on the London session and residency scene. He co-founded the 13 piece Atlantic Soul band 'The Fabulistics' who regularly played for the Royals and the SAS! Alan has known Rob since their school days and they have played together in a very wide variety of bands and styles, ever since.
Bob Turner is a highly regarded brass player, in high demand throughout the southeast.
Ensemble Paradisi, will be playing at the Blackmarket VIP, (formerly the Venue) above the Blackmarket pub on George Street, Old Town Hastings on Saturday 1 July. Tickets are available from, https://www.wegottickets.com/event/402083, £8.80 in advance, including booking fee. Also available from
B&T Music, 9 Claremont, Hastings and Bio-50,
7 Courthouse Street, Old Town, Hastings.
Entrance on the night will be from 7.30, with tickets on the door at £10 cash only.
Bring your dancing shoes!!